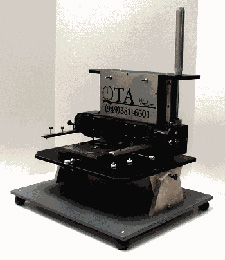 Ball Grid Array Baller
Reduce the Cost of Device Packaging With QTA machine's New Ball Grid Array Baller
Frustrated with the high cost of BGA rework? QTA Machine now offers an in-house solution. With their new Ball Grid Array Baller reworking device packages are easier and more economical than ever.
Guaranteed Precision
The balling system's precision adjustment mechanisms are designed to package devices with extraordinary precision.
Vernier X, Y, and Theta adjustments ensure exact stage alignment and accurate placement of solder spheres in a Ball Grid Array.
A precision vertical movement mechanism compensates for heat sink height.
To guarantee perfect alignment, the solder paste stencil and ball mask are constructed from a single piece of material and holes are drilled by lasers. No adjustments are ever needed.
The integrity of the component is protected by a high temperature holding fixture which can be placed into conventional reflow ovens. The component is never directly handled prior to reflow.
Versatile and Efficient Packaging
QTA Machine's balling system comes with a customizable tooling set able to accomodate up to 16 different BGA/uBGA patterns. Competing systems initially accomodate a single package style and require the purchase of additional, expensive stages. In addition, QTA's system allows the operator to do up to 16 packages at a time, greatly increasing production efficiency.
Convenient and Easy to Use
The BGA Baller's innovative features were designed with convenience and ease of use in mind.
Requires only compressed air for operation.
A tilting workbed allows solder paste and spheres to be applied to the device with maximum ease.
A convenient ball compartment with a trap door stores and releases solder spheres as needed. Excess spheres can be quickly recaptured without mess or handling by tilting the workbed away from the operator and opening the trap door.
Stages and stencils can be switched in seconds without the need for tools.
Doubles as a Two-Sided Screen Printer
Increased utilization for small surface mount assembly processes and lower tooling cost by putting both sides in one stencil
Quality Componentry
The Baller's stainless steel, black anodized aluminum and nickel plated components are durable, resistant to corrosion, and easy to clean and maintain.